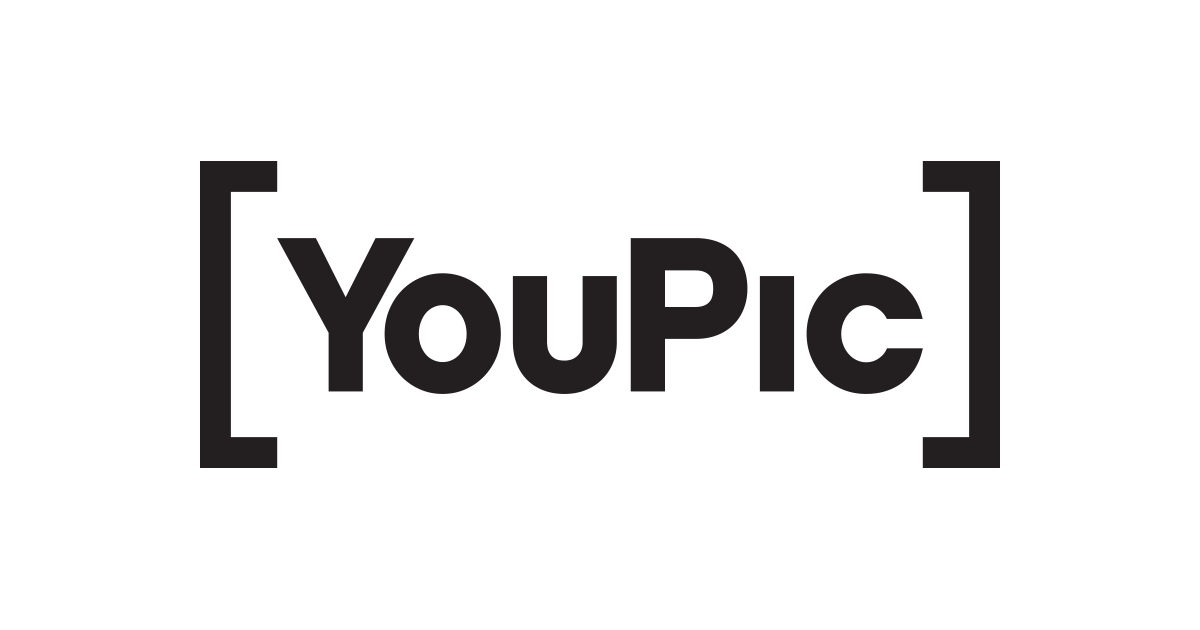 Have You Tried YouPic for Photographers?
Have you tried YouPic for photographers? YouPic is a photo and video platform where anyone can upload their work. Photographers can rate each others work, down to specifics like composition, creativity, technical quality and content. YouPic is the place for photography enthusiasts around the world to be inspired, receive recognition and improve their photography. It is in my opinion, the best social platform for photographers out there right now. Whether you are an amateur or a professional, the YouPic platform provides anyone with useful courses, tips & tricks, and inspiration. YouPic is first and foremost a photo community, and it is based on a passion for photography and an engagement in the art form. There are currently over 1.5 million photographers from all around the world that have found YouPic and has become a part of its loving and active community. On YouPic, there are a number of ways for photographers to interact with each other and share their work with the rest of the community.
So What Is YouPic?
Well, its not Instagram, it is not Facebook. Why I say that it's not really like Instagram or Flickr etc, in which you could post anything off the cuff (although you could if you wanted to), is because it can best described as being a LinkedIn version of Instagram where professionals display their work, where they can be hired, their work reviewed or even sell their works. The photographic quality standards of works are very high, as is the level of photographers on this platform. It can be used on IOS, Android and Windows devices.
For people like me it's a great place to both find inspirational photos, discuss how they were taken, and to gain useful insight into which of your photos resonate with other photographers of similar styles, and what it was about the photo that they liked. This forces you to only post photos that you think are worthy of review, which in turn keeps the overall quality level high.
There are awards and levels that you receive as you get more of the typical social factors like favorites, repics (like a retweet within the platform), and engagement (comments), as well as things like number of countries your photos were taken in and other less common items. The EXIF data, tagging and geotagged information is also displayed along with your image. Your work can be shared by you or others to any of the existing social networks. It also has a Lightroom plugin so you can upload directly from within the application which is quite handy.
Who Will You Find On YouPic?
There is a huge passionate community of photography enthusiasts from all of walks of life. Amateurs to super professional photographers, it looks to be the new hot spot for photographers. Photographers like Adam Hinton and David Harrow even have a profiles on YouPic, that says a lot to me!
How Much Does It Cost?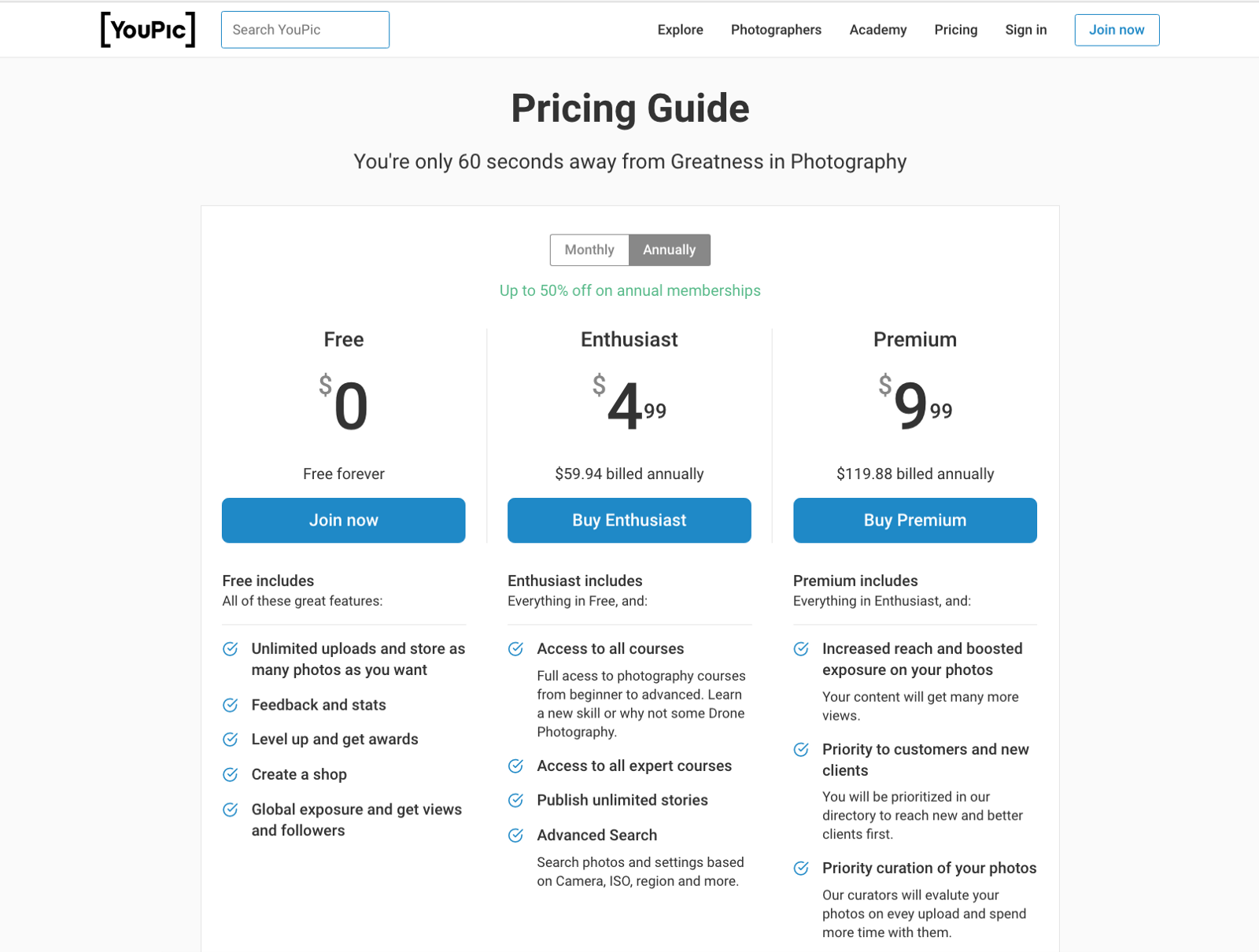 Terms and Conditions
Reading the About Page, Terms & Conditions, Privacy, YouPic seems to have their hearts in the right place. It is really encouraging to read in large letters, that photographers keeps all their rights to their works.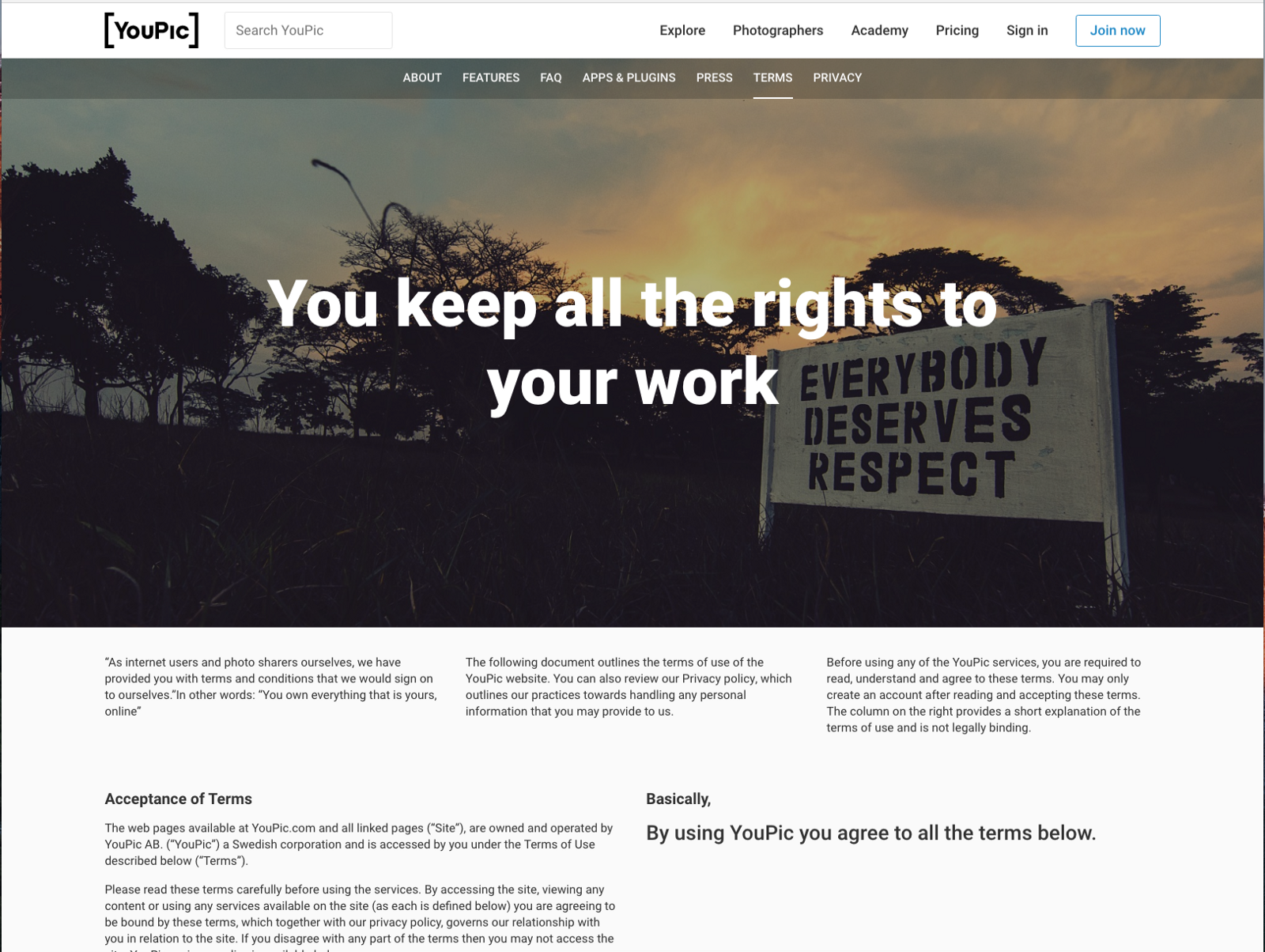 How Does It Work?
It did not take more than a few seconds after uploading my first work, that I started to receive positve responses and repics (which is like a re-tweet) and feedback based on composition, creativity, technical quality and content. Everybody is looking for something called Inspiration Stars on YouPic. When you acquire those, the human curators choose your image to be featured. You will also receive many more views and love on the special feed called Inspiration.
There is also a shop feature which I havent set up yet, as I have been using YouPic for less than a week, but are planning to do so soon. The Shop is commission free, which means that I will get 100% of the revenue I make.
My Take On Social Media Platforms
Social media is an amazing vehicle to reach out to people instantly! Prior to the digital age, one had to work so much harder to get your name out there and to be noticed, now it's so much easier; and the competition bar can be raised even higher in the race to be the top dog in any game. In today's world, it is all about instant gratification, people dont have time to wait for a roll of film to be processed, they want the digital image today!
It is good to have a presence online and a must. Personally, I do not have the time or desire to be feeding 20 different platforms and I have been very selective in what I have chosen to use for my photographic business. Facebook has the strongest social media following internationally since its inception in 2004. I use this as my main presence, followed by Twitter, Instagram and LinkedIn.
Twitter and Instagram are brilliant if you are shooting at a sporting event, capturing the moments now, and later competitors can see your snaps and tags and get in touch with you afterwards for images that you may have to sell. LinkedIn for me a great place to showcase my work as a business. I have now since discovered YouPic, and are very impressed with what I see and how it works!
This is by no means a fully comprehensive review of the platform, I can say I am inspired by the works I have seen and are in this one for the long haul. Do give it a try and follow me here as well.
Conclusion
This is a fantastic platform to be discovered, seen and noticed by the photography community and by photographic consumers.
Newsletter
Please subscribe to my newsletter which will inform you of any new workshops, activities, products and upcoming events.
[pix_button type="simple_button" size="large"]Subscribe[/pix_button]
CRAIG FOUCHÉ
I am a Western Cape Winelands photographer based in South Africa, photographing locally and internationally. I am a registered NPS (Nikon Professional Services) member, a contributor to Nikon South Africa's social media pages and website. I photograph a broad variety of genres, using film and digital medium and are very passionate about my work.
My work has been published several times in SA4x4, HIGH LIFE (British Airways Magazine), Getaway Magazine and Wildside Magazine, and I am also a contributor to Media24, which is the print media arm of the South African media company Naspers. I finished as a Top Ten finalist in the 2016 Getaway Magazine Gallery Competition, finishing with Highly Commended.
Please feel free to comment and share. You can also click on the social media buttons in the footer below and see what I am currently doing, or sign up for my newsletter and follow me.
Until next time, thanks for your support, appreciating my work and reading my blogs.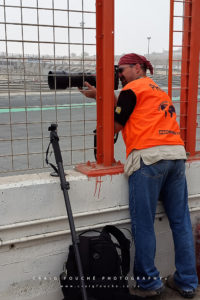 Craig Fouché, Dubai 24H, Dubai Autodrome, UAE ©2017 Craig Fouché Photography
---
You might also like
---
---